"Good soil structure is vital for growing crops. It regulates soil erosion and gaseous exchange rates, the movement and storage of water, soil temperature, respiration and development, nutrient cycling, resistance to structural degradation, and supports biological activity. It also promotes germination, emergence, crop yields, grain quality and soil health." (Simply Sustainable Soils, LEAF)
What is soil structure?
Soil structure refers to the arrangement of particles in the soil
Clay content, organic matter (and in some cases calcium and iron compounds) help to bind the soil together into structural units
Soils can restructure due to natural fracturing processes when clay shrinks and swells and by cultivation, biological activity also restructures soil
The physical properties of the soil vary between and within fields, depending on how it is managed
How does it differ from soil texture?
Soil texture refers to the relative properties of clay, silt and sand. These are the main components of all soils but they occur in differing amounts.
Sand 
The largest particles found in soil
These have the largest airspaces between individual particles through which air can freely circulate and water can easily drain.
Silt 
Has smaller particles than sand but bigger than clay
Air pockets and water channels are more restricted than in sandy soils
Clay  
Smallest particles found in soil
Spaces between individual particles are also small
Air and water movement is restricted
How to assess soil texture?
Rub some moist soil between finger and thumb to assess soil texture. Sand feels gritty and when moulded into a ball soon breaks up. Silt feels smooth, silky, or floury while clay feels sticky when wet, looks shiny when smeared, and will hold a ball shape. Soil texture cannot be changed but knowing what it is and how it behaves will help plan management.
How do I check the structure of my soil?
Grab a spade and dig a hole
By digging a hole in the soil and taking out a wedge, you will be able to see first-hand what the structure is like and if there are any problems.
For more information on sampling to check soil structure, please click here to see the Think Soils manual produced by the Environment Agency
Good soil structure is characterised by well-formed porous blocks with rounded edges, easily broken between the fingers when moist. Vertical fissures lead roots downwards. Soil with good structure is hard to damage
Poor soil structure has much harder, sharper blocks which are more difficult to break apart. Horizontal fissures restrict root growth and development, these soils are easy to damage
For information on the importance of soil organic matter, read the bulletin sheet from Catchment Sensitive Farming here 
Assessing soil structure in detail
You will need a spade approximately 20 cm wide, 22 -25 cm long and (optionally) a sheet, sack or tray (if not using the ground to lay your samples on), a small knife and a digital camera.
Samples can be taken any time of year but the soil should be moist; too wet or dry makes it difficult to get a representative sample. Roots are best seen in an established crop or for some months after harvest.
When selecting an area to sample make sure you select an area showing a uniform crop or soil colour or where you suspect there may be a problem. Within this area plan a grid to look at preferably 10 spots on the soil. For small experimental spots 3 or 5 samples per plot would be sufficient.
To carry out simple quick tests that assess soil structure based on the appearance and feel of a block of soil dug out with a spade, follow the instructions below.
Step 1: Extract the soil block                Step 2: Examine the soil block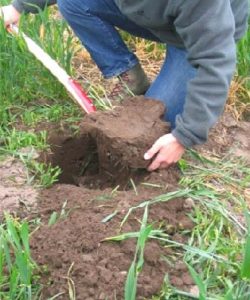 Step 3: Break up the block            Step 4: Break up the aggregates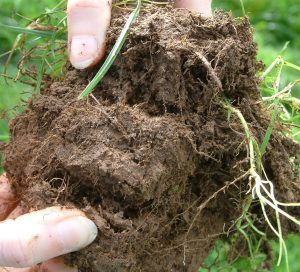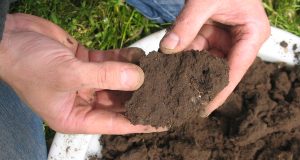 Step 5 and 6: Assign and confirm a soil score
Match the soil to the pictures category by category to determine which fits best. Work out the score in relation to:
Block extraction – difficulty in extracting the block
Aggregate shape and size – larger, more angular, less porous, presence of large worm holes
Roots – clustering, thickening and deflections
Anaerobism – pockets or layers of grey soil, smelling of sulphur and presence of ferrous ions
Click here to download and print the chart to help you work out your scoring.
Step 7: Calculate the soil block scores for two or more layers of differing structure
Multiply the score of each layer by its thickness and divide the product by the overall depth e.g. for a 25 cm block with 10 cm depth of loose soil (Sq1)m over a more compact (Sq3) layer at 10-25 cm depth, the block score is (1×10)/25 + (3×15)/25 = Sq2.2
N.B. Scores may fit between categories if they have properties of both. Scores of 1-3 are within an acceptable range, scores of 4 or 5 indicate compaction and a change of soil management is needed.
Material adapted from 'Visual Soil Structure Quality Assessment'
Why is soil structure important?
Well structured soil allows the free movement of air and water through fissures (cracks) between the structural units. Pores within the units also allow the movement of air and water
Good soil structure is the key to maximising productivity reducing the risk of greenhouse gas emissions, and locks up carbon, irrespective of the farm type
A soil with poor soil structure has a high risk of generating run off. The risk of runoff is greatest when poor soil structure is near the soil surface
Soil structure deteriorates when structural units are deformed, producing a dense single mass of soil (or large soil units). This occurs when pressure is applied to a wet and soft soil
Pressure squeezes the soil units together and reduces pore space within the units.  A dry soil can withstand pressure without deforming soil structure
Some soils are unstable when clay, calcium, or organic matter content is low. Unstable aggregates disperse when wet, forming a solid mass as the soil dries. When this occurs at the immediate soil surface the soil may form a cap
What are the benefits to having good soil structure?
Crop roots can go much deeper into the earth providing a better supply of water and allowing crops to access and bring up minerals making them available for future plant uptake
Land with good structure will drain more quickly in the spring and take longer to wet up in the autumn giving you a longer safe working period on the land
Poor soil structure can lead to increased surface water runoff, poor yields and excessive use of nutrients and pesticides
Taking steps to reduce the risks from compaction and erosion will improve uptake of applied nutrients, keep plants healthy and resilient to pests and diseases, reduce greenhouse gas emissions, reduce irrigation needs and ultimately improve profitability through savings and better yields
Problems caused by poor soil structure include compaction, and this is getting worse in some areas of the UK