Monitoring and controlling the pH of soils across your farm is the first step towards good soil nutrient management and is the one that is often overlooked, despite being a crucial element of a profitable farming enterprise.
What is soil pH?
Soil pH is a measure of the relative acidity of alkalinity of a soil.  The natural pH of a soil is determined by its chemical composition.  Soils can become more acidic due to natural and agricultural processes as well as sometimes becoming more alkaline.  Making sure that the pH is right in your soils by testing them regularly is fundamental for profitable farming systems.
Why is pH important?
Soil pH affects the availability of the nutrients within the soil and hence the ability of a soil to support crop growth. Grass and crop yields can be reduced by 20% where soil pH is well below target.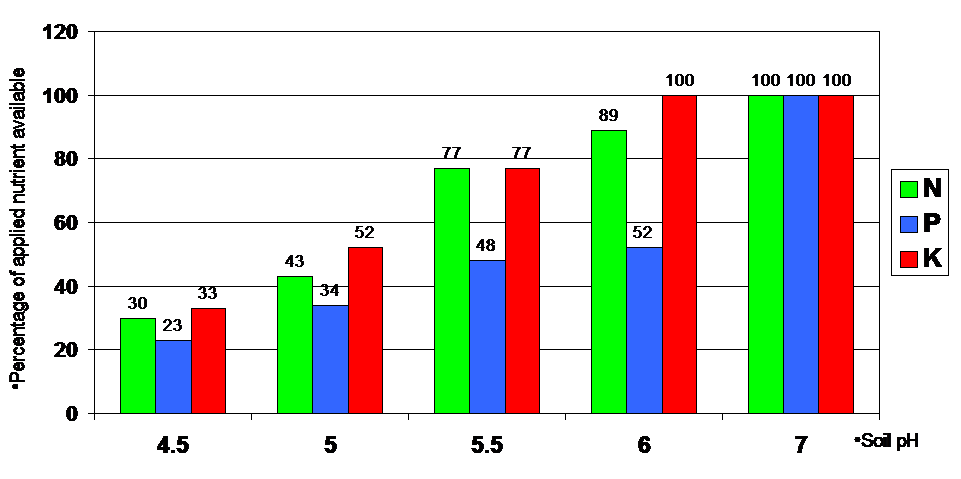 The chart above shows the percentage of applied N, P and K which is available at the different soil pH values
If the pH is wrong then any nutrients applied to the crop (fertiliser or manures) will not be available and will be lost through the soil, incurring costs and potential runoff issues
Soil pH has a significant effect on biological and chemical proceses and therefore affects nitrous oxide emissions
Early identification of soil pH problems is important as it can be costly and difficult to correct long term nutrient deficiencies and the best way to do this is to test your soils regularly
Left untreated most soils will drop in pH overtime. Therefore it is a good idea to retest soils every 3-5 years to monitor changes and decide how often to lime
High rainfall will leach nutrients and lime out of the soil surface
What is the optimum pH for my soil?
pH works on a logarithimic scale; a pH of 5 is 10 times more acidic than a pH of 6.  In very acid soils (i.e. pH 4), most crops will fail, whilst very alkaline soils (i.e. pH 8) will be rich in calcium and magnesium.
The soil pH range at which nutrients are taken up into the plant at the optimum rate varies slightly for different crops. A guide to crop pH requirements can be found here.
Status of South West Soils
Through the Soils for Profit project, over 3,400 soil samples were analysed to provide targeted advive for farmers and growers on the nutrient status and quality of their soils. The SWARM Hub analysed this data to see what the common issues were in terms of pH, P and K values and levels of organic matter in the soil samples.
Click here to see the results.
Soil testing
Healthy fertile soil is a dynamic living system.  Managing the chemical components through regular soil analysis will allow for reduced costs and environmental impacts as well as optimising productivity.
How do I take a soil sample?
Soil analysis is only as good as the sample taken, and needs to be representative of the whole field.
The protocol for soil sampling should include:
Use a suitable tool (sampling auger / soil corer)
Sample to a consistent depth, normal depth is 6 inches (15 cm) for arable soils and 3 inches (7.5cm) for grassland
Walk the field in a W taking regular samples (for a regular shaped field, take 7 cores per leg of the W)
Avoid field edges, gateways, trees and unusual areas
Mix all samples in a bucket to form a single representative sample. Thouroughly mix all cores and take a subsample from this to send to the lab
Sample at the same time every year
Avoid sampling under extreme conditions, for example waterlogged or very dry soil
Don't sample within 8 weeks of fertiliser or 12 weeks of slurry / manure applications for P, K and Mg analysis, and sooner than 12 months after liming for pH analysis.
Frequency of sampling
Soil nutrient levels do not alter markedly over short periods of time unless major changes of supply (application) and demand (by the crop) are introduced. Additional sampling may be justified where there is a major change to husbandry practices (e.g. alteration of cropping or manure policy).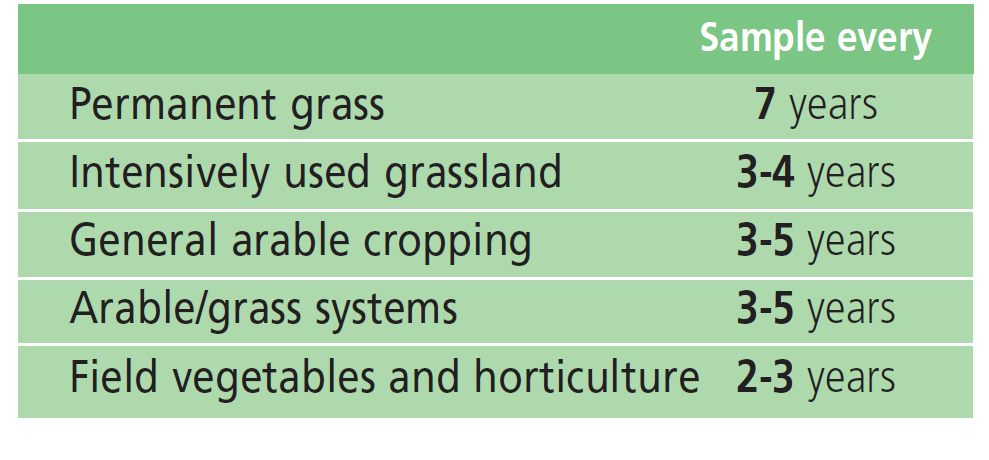 For more information on soil analysis, see the AHDB and Potash Development Association's guide here.
Something to consider:
Soil analysis (while not perfect) is the most effective and practical method of assessing soil fertility in respect of pH and plant available P, K and Mg.
However results must be used alongside knowledge such as soil type, structure and crop yield to determine fertiliser and manure requirements.
Knowing what is going on in the soil both in terms of physical structure and chemical composition will allow for optimised management, reduced costs through targeted use of fertiliser, and reduced risk of environmental issues.
Liming
Application of lime will help raise the pH of fields and allow the crop to grow at an optimal rate and yield using all available nutrients.
How often should I lime my fields?
This depends entirely on the results of the previous soil test, as that will give you an idea as to what pH the field is at currently compared to where it needs to be to accommodate the growing crop. The general rule is to lime as often as it takes to maintain the target pH. Build soil testing into your rotations and soil test every 3-4 years. This will allow you to monitor changes and decide how often to apply lime.
If the soil pH is very low it may take multiple applications to correct the problem. In grassland it can take 9-12 months for the lime to work into the soil and alter the pH when it is applied on the surface and not ploughed in so the soil should not be resampled for at least 12 months after liming.
Things to consider with lime application
There are many different lime products available and these differ in their ability to increase pH (neutralising value). The supplier of the lime should provide you with the chemical composition of the product, how finely it has been ground and its neutralising value (NV). As a general rule of thumb, the more liming material that the product contains, the higher the NV of the lime will be. In terms of how effective and reactive the product is, that tends to depend on the fineness of the material.
It is also worth considering the availability of different products in your area, the value for money of different products and the application rate.
Recommended liming rates
It is good practice not to apply more than 5t of lime per ha in one dose to grassland soils. For arable soils applications of more than 10t lime / ha should be split. This will make sure that the lime is effectively taken into the soil.
The table below from the Agricultural Lime Association (ALA) shows the recommended liming rates required to bring the soil pH to an optimum level. The quantities shows are tonnes per hectare.
Download the table here.
Useful Tools
The Agricultural Lime Association has a lime calculator tool on their website that allows you to calculate a recommended liming rate (t/ha) based on cropping, enterprise type, measured soil pH, soil type and liming material to be applied.
Click here to access it
Liming products demonstration