Effective planning of manure and fertiliser applications allows farmers to minimise environmental risks and optimise productivity
There are 4 key steps to nutrient management planning:
1. Determine the supply of nutrients from the soil
2. Look up the crop nutrient requirements at that level of soil supply
3. Estimate the supply of nutrients from organic manures applied
4. Deduct the estimated manure nutrient supply from crop requirements to find the amount of fertiliser to apply
If no organic manures are used then you only need to use steps 1 and 2
Test or assess the nutrient content of soils for Nitrogen (using soil nitrogen supply assessment on grassland, and soil nitrogen analysis on arable)
Test soil for pH levels and other nutrients by conducting regular soil testing every 3-5 years on every field
Test / assess nutrient content of all organic materials to be applied to soils or crops.
Calculate additional fertiliser nutrients required by using RB209
Maintain, set, calibrate and check spreading accuracy of all slurry / manure / fertiliser application equipment
Apply fertilisers and organic manures evenly
Wherever possible target fields with lower P and K indices for spreading organic manures
Keep records for all applications of fertilisers and manures
Why should I plan nutrient applications?
Nutrient management planning allows you to match inputs of nutrients (including fertilisers and organic manures) to crop demand, so that yield is optimised, nutrient use is minimised (saving costs) and there are minimal losses to the environment
Nitrogen emissions to the air from farms include greenhouse gases, the most potent of which is nitrous oxide. Nitrous oxide is one of the biggest contributions that agriculture makes to climate change
Every process and activity on the farm that returns or adds N to the soil increases the likelihood and extent of nitrous oxide formation
Soil nitrous oxide emissions originate from three sources; soil microorganism activity (55%); organic manure applications (18%); and Nitrogen fertiliser applications (27%)
What benefits can I achieve from planning nutrient applications?
Reductions in the farm's direct and indirect greenhouse gas emissions of nitrous oxide
A reduction in the risk of environmental losses from fields where nutrients have been over applied (by applying only what the crop needs)
On farms where organic manure and artificial fertiliser are used together, there is good potential for cost savings by making the most of the manures and slurries produced on farm. Financial savings in artificial fertiliser of £100/ha (2009) can be achieved through more efficient use of manures
Better use of organic materials to maintain or increase soil organic matter content.
More efficient use of manufactured fertiliser
Better value from fertilisers and organic manures that are used by applying the right amount at the right time
Enhanced quality and yield of crops due to targeted applications
Improved crop and livestock performance from a balanced supply of nutrients
What are farmers doing?
A recent report looking at resource management on farms revealed the significance and potential benefits of management planning:
Farmers that have manure, nutrient or soil management plans have been found to be more likely to calibrate their fertiliser spreaders, use precision equipment to apply fertiliser and analyse their manure, and test their soils.
Farmer's awareness and use of guides, tools and software available to help manage nutrients was also closely associated with whether or not they had a nutrient plan.
77% of farms had a manure management plan in place, and the graph below shows the breakdown per farm type.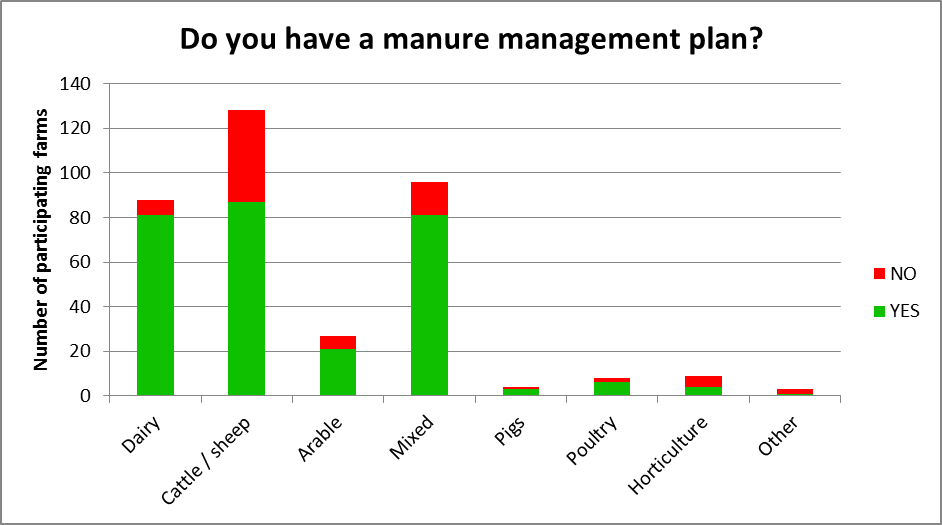 Regarding planning nutrient applications, 55% of surveyed farms had a nutrient management plan in place. When looking at the farm breakdown per type, over half of all dairy, arable and mixed farms had plans.